Was
Rage
the only catalyst? No, I don't believe it was the only catalyst. Any
"slasher-type" movie, book, short story or video game in the hands of someone with a problem distinguishing reality from fantasy could be the catalyst. IMO, I am sure that the shooters, mentioned in Wiki, had many other influences besides
Rage
. (This is a topic that I could write about all day but I am going to try to keep it short. I have so many thoughts and opinions on this subject.) My other thought on

Rage

is that this is a book for mature readers only. Weren't the parents/guardians of these young people paying attention to what they were doing at all? There had to be some sort of red flag or sign that these troubled teens exhibited. The parents/guardians could have probably prevented these incidents from happening at all. To hold

Rage

fully responsible for these shootings is unreasonable.
Here's another question: Do you feel that stopping publication will prevent it from possibly getting into the wrong hands in the future? No, probably not because anyone wanting to read all of Stephen King's work will find a way to get it and read it. Will I let my 12-13 year old read
Rage
anytime soon? No, I will explain to him that he must wait until he is old enough to handle the themes in this novel. This is a case of a few bad apples spoiling the bunch. On a scale of 1-10, I give this novel an (8.5).
Stephen King's Keynote Address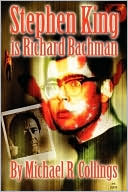 Reader feedback on this topic is greatly appreciated. The question about
Rage
is one I have wanted to pose for weeks now but finally thought it over before writing about it. (I may add more to this post in the future as I continue to mull over this topic.)
*Please post your thoughts or opinions on this or any other topic in comments.